Natural CALM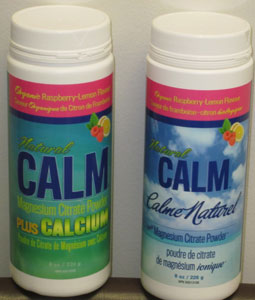 Natural Calm Canada's magnesium citrate powder features a proprietary process that provides the most absorbable, effective, fast-acting magnesium available anywhere. The 100% water-soluble magnesium citrate becomes ionic when dissolved in very hot water and can relieve many symptoms associated with magnesium deficiency quickly and effectively.
Available in a variety of flavours and sizes:
Plain (Original), Raspberry Lemon, Sweet Lemon and Orange
8 oz (226g) and 16 oz (454g) sizes
Magnesium Plus Calcium
Formulated with a 3:2 magnesium to calcium ratio, Natural Calm Canada's magnesium citrate powder plus calcium should only be used when additional calcium supplementation is required. One of the only supplements formulated with more magnesium than calcium to restore mineral balance. Fortified with selected bone-builder nutrients.
Available in a variety of flavours and sizes:
Plain (Original) and Raspberry-Lemon
8oz (226g) and 16oz (454g) sizes.
Also available in boxes of 30 single serve envelopes in convenient Travel Packs.
Directions for Use: Pour about ½ cup slightly cooled boiling water, or very hot water into a cup or glass. Add powder, let fizz, let settle and stir. Add to favourite hot or cold beverage, or enjoy like a cup of tea.
Ingredients: Magnesium Citrate, Magnesium Ascorbate, Calcium Gluconate, Potassium Citrate, Ascorbic Acid, Vitamin D3, Boron Citrate.
Non-medicinal ingredients: Citric Acid. Flavours contain organic stevia.
Recommended Dose: Mix 2 teaspoons in a glass of very hot water
Nutrient Value, per 2 teaspoons: Magnesium 300mg, Vitamin C 250mg, Calcium 200mg, Potassium 99mg, Boron 250mcg, Vitamin D3 100 IU's
Known Adverse Reactions: Some people may experience diarrhea. Resolve by reducing dose and taking twice daily. Note comfortably loose stools are an indication of the optimal amount. Adjust as required.